Music Box – Alma Musical Bird
Music Box – Alma Musical Bird
Cute musical box mobile. Embroidered handmade pattern.
Music : « Fly me to the moon »
Size: 14 x 20 cm
In stock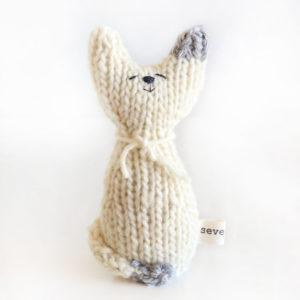 Decoration, Play, Sale
Hand knitted mini cat from Severina Kids made of 100% Argentinean merino wool and stuffed with recycled polyester. Hand embroidered. Packaging 100% cotton bag.
Size: 15,5 x 7cm
Care: For children under of 3 years old remove the knot. Hand/Machine Wash up to 30ºC Wool Cycle.
€ 19,00
Includes 19% Mwst